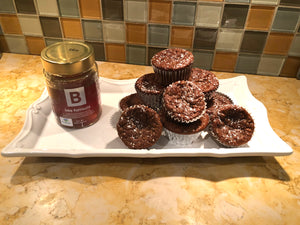 Gluten Free Nothing "B" Honey Muffins
Yield: 18
Prep time: 10 minutes
Cook time: 25 minutes
Total Time:  35 minutes
Ingredients
1 cup Almond butter or peanut butter

2 -3 Bananas (very ripe mashed bananas about 1 cup)

1 tsp Baking Soda

1 tsp Vanilla Extract

3 Eggs

½ tsp Sea salt

¼ cup "B" Honey (or less if desired)

1 tsp Cinnamon

Optional add-ins:

½ cup chocolate chips, or 1 cup fresh raspberries, or ½ cup dried raisins, or 1 sliced banana.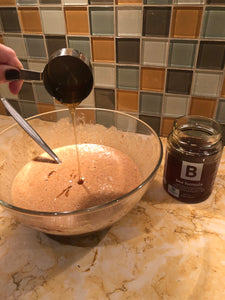 Directions
• Preheat oven to 350° Line a 12-hole muffin tray with paper muffin liners.

• In a bowl mash the bananas. Add the almond butter, baking soda, vanilla, eggs, salt, honey, and cinnamon. Mix all ingredients together until well blended.

• Spoon the mixture into the prepared liners. Bake for approximately 25 mins or until golden and springy to the touch. Cool for 10 mins; transfer to a wire rack and leave to cool completely.

• Refrigerate after for freshness

Brussel Sprouts with "B" Honey and Bacon
Yield: 8

Prep time: 20 minutes

Cook time: 25 minutes

Total Time: 45 minutes
Ingredients
1 lb. Bacon

2 lb. Brussel Sprouts (shredded or chopped)

1 stick – Butter

½ tsp salt

½ tsp Red Pepper Flakes

½ tsp Onion Powder

½ tsp Garlic powder

1 tbsp of "B" Honey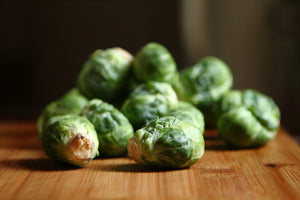 Directions
• Place bacon in a large, deep skillet. Cook over medium-high heat until crisp. Drain, reserving 2 tablespoons grease, crumble and set aside.

• In the same skillet, melt butter with reserved bacon grease over medium heat. Add Brussels sprouts to the pan, then add red pepper flakes, garlic powder, onion powder, and season with salt and pepper. Cook over medium heat until sprouts are wilted and tender, 10 to 15 minutes. Stir in the honey and crumbled bacon pieces cook for another 5 minutes or so until brown and a bit crispy!